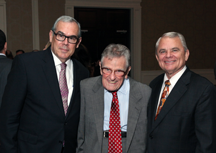 Drs. Batson, Cohn and Holier at the 2013 Reception

Welcome to official website of the Isidore Cohn, Jr. - James D. Rives Surgical Society. The Cohn-Rives Society, as its members refer to it, is the official alumni organization of the New Orleans LSU Department of Surgery.

Established in 1964 to honor James Davidson Rives who presided as Head of the Department of Surgery from 1947-1962. In addition to paying tribute to Dr. Rives, the organization established a Visiting Professorship in the Department of Surgery in his name. This annual lectureship, the first one established at LSU, is held each spring in New Orleans.
Established to promote the advancement of knowledge, practice and teaching of surgery.
In 2007 the organization modified its name to honor Isidore Cohn, Jr. Dr. Cohn presided over the LSU Department of Surgery for 27 years, a tenure which oversaw the training of more than 200 surgeons.