Contact Us:
Hayley Everitt
Coordinator, Academic Office
LSUHSC, Department of Surgery
1542 Tulane Avenue, Room 734A
Amanda Gregoire, NP-C
Clinical Practice Manager
LSU Healthcare Network
4429 Clara Street, Suite 340
New Orleans, LA 70115
(504) 412-1240
Tanja Milosavljevic, PhD
Clinical Research Coordinator
SECTION OF PLASTIC AND RECONSTRUCTIVE SURGERY
The LSU Section of Plastic and Reconstructive Surgery is focused on enhancing the beauty, health and well-being of each of our patients - while also upholding the highest standards of quality care. We provide you with today's most advanced plastic surgery procedures, reconstructive surgery and a variety of aesthetic procedures - while teaching tomorrow's leaders.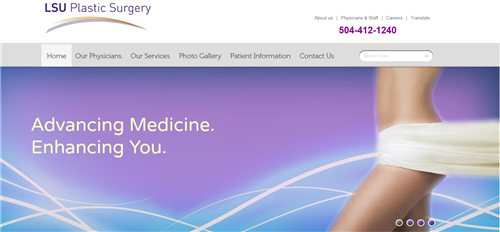 LSU Plastic Surgery offers you everything from surgical and non-surgical cosmetic and aesthetic procedures to reconstructive surgery – all designed to give you natural-looking results that enhance your body and help you to look and feel your best. Our talented and experienced surgeons can enhance the beauty of your breasts, body, face and skin. But just as importantly, our physicians have the highly specialized training and skills to perform the latest breast reconstruction procedures, correction of cleft lips and palettes and repair of other injuries and deformities. We bring you a comprehensive array of leading-edge plastic and reconstructive surgery options – all in one place.

Regardless of what kind of procedure you may desire, the team at LSU Plastic Surgery understands that undergoing any type of medical treatment is a major decision for you. We're here to help you decide the option that's best for you – and we encourage you to contact us today to schedule a consultation or learn more about any of the surgical procedures and aesthetic treatments we provide.
For a complete list of services, please, click HERE:
In the News:
Dr. St. Hilaire on WWLTV - "New procedure gives baby new lease on life"
Dr. Tessler and Migraine Surgery on New Orleans Living - "Headed for Relief"
Section Faculty Listing:
CORE FACULTY
Hugo St. Hilaire, MD, DDS, FACS
Clinical Professor of Surgery,
Section Chief,
Education Director of Children's Hospital Rotation
Kelly Babineaux, MD
Associate Professor of Clinical Surgery
Hand Surgery, Education Director of UMCNO
Hand Surgery Rotation


Jonathan Boraski, MD
Associate Professor of Clinical Surgery
 
Charles L. Dupin, MD, FACS
Clinical Professor of Surgery,
Program Director

Adam Hauch, MD
Assistant Professor of Clinical Surgery
 
Frank Lau, MD
Associate Professor of Clinical Surgery,
Surgical Director of Regenerative Medicine

Mohamad Masoumy, MD
Assistant Professor of Clinical Surgery
 
Hamid Massiha, MD, FACS
Clinical Professor of Surgery,
Director of Resident Aesthetic Clinic

Mark Stalder, MD
Assistant Professor of Clinical Surgery


Sharon Stanley, MD
Assistant Professor of Clinical Surgery,
Hand Surgery
 
Taylor Theunissen, MD
Clinical Assistant Professor of Surgery,  
Education Director of OLOL Rotation
Charles 'Ty' Tuggle MD
Assistant Professor of Clinical Surgery,
Hand Surgery


Daniel Womac, MD
Assistant Professor of Clinical Surgery

GRATIS FACULTY
Robert Allen, MD         
Clinical Professor of Surgery


John A Dean, MD
Clinical Assistant Professor of Surgery


Andrew Freel, MD
Clinical Assistant Professor of Surgery
Michael Hanemann, MD
Clinical Assistant Professor of Surgery

M'liss Hogan, MD
Clinical Assistant Professor of Surgery
 
John Lindsey, MD, FACS
Clinical Assistant Professor of Surgery
 
Kamran Khoobehi, MD, FACS
Clinical Associate Professor of Surgery,
Education Director of Aesthetic Surgery
 
Michael Moses, MD, FACS
Clinical Assistant Professor of Surgery

Anthony Stephens, MD, FACS
Clinical Instructor of Surgery
Jamie Zampell, MD         
Clinical Assistant Professor of Surgery