Matthew G. Cable, MD
Assistant Professor of Orthopaedic Surgery/Oncology
---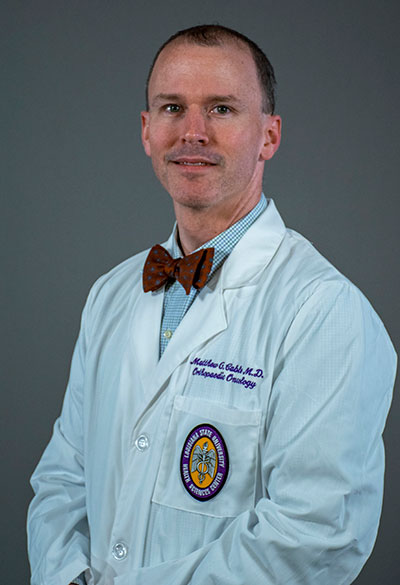 Practice Location:
University Medical Center - New Orleans
2000 Tulane Avenue
New Orleans, LA  70112
(504) 702-5700, for appointments
Children's Hospital - New Orleans
200 Henry Clay Avenue
New Orleans, LA  70118
(504) 899-9511, for appointments
Academic Office:
1542 Tulane Avenue, T6-7
New Orleans, LA  70112
(504) 568-4680, phone
(504) 568-4466, fax
Degrees
Fellowship:
University of Utah
Ortho/Musculoskeletal Oncology
Huntsman Cancer Institute & Primary Children's Hospital
Salt Lake City, UT
Residency: 
Detroit Medical Center
Orthopaedic Surgery
Detroit, MI
Degrees: 
Doctor of Medicine
University of Chicago Pritzker School of Medicine
Chicago, IL
Bachelor of Science
Tufts University
Biochemistry/Biomedical engineering
Medford, MD
Bio
Dr. Matthew Cable was born in Memphis, Tennessee, raised in Titusville, Florida, and is excited to lay down roots with his family back in the South. 
He is an orthopaedic oncologist specializing in the surgical treatment of adult and pediatric musculoskeletal tumors.  These include benign and malignant lesions of bone and soft tissue, metastatic lesions, and pathologically unusual lesions afflicting the musculoskeletal system. 
Dr. Cable completed undergraduate at Tufts University summa cum laude in biochemistry and biomedical engineering, medical training at the University of Chicago Pritzker School of Medicine, orthopaedic residency at the Detroit Medical Center, and a two-year Sarcoma Advanced Clinical and Research fellowship at the Huntsman Cancer Institute and Primary Children's Hospital at the University of Utah  (Musculoskeletal Oncology). 
His current research interests involve the epigenetic behavior of osteosarcoma and other soft tissue sarcomas, and he has published numerous book chapters, peer reviewed articles, and  editorials. 
Research Interests
Epigenetic Behavior of Osteosarcoma 
Soft Tissue Sarcomas
Download CV