Pediatric Orthopaedic Surgery Fellowship
Thank you for your interest in the pediatric orthopaedic surgery fellowship at Children's Hospital New Orleans (CHNOLA). The CHNOLA Pediatric Orthopaedic Fellowship is a 1-year academic training program that prepares fellows for the independent surgical and non-surgical care of children with orthopaedic conditions.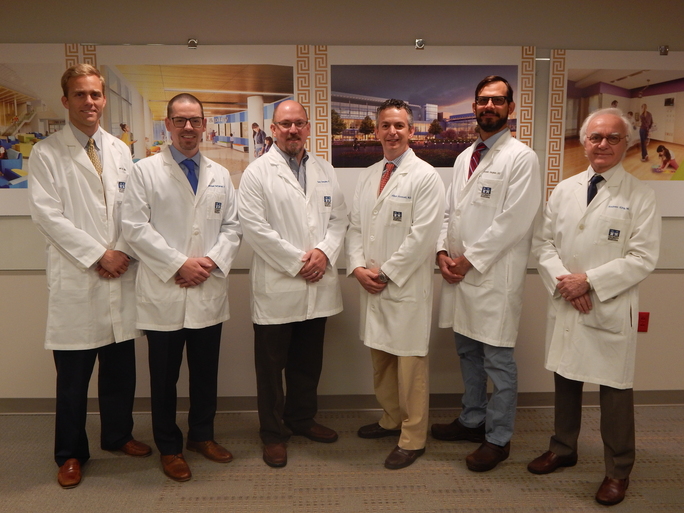 Program Highlights
Fellows have choice of cases, clinics, and subspecialty experience
Extensive, hands-on operative experience
Collegial work environment with uniquely warm, family atmosphere
Monthly lunch with fellowship director to discuss fellowship experience, future plans, etc
All subspecialties represented including: spine deformity, sports, trauma, neuromuscular, general pediatric orthopaedics, complex foot deformity, hip (including exposure to PAO), lower extremity deformity (angular deformity and leg length discrepancy), hand, and tumor
Several multidisciplinary clinics including: Cerebral Palsy, Spina Bifida, Muscular Dystrophy
Opportunity to participate in short-term global outreach experiences
Fellowship Aims
Provide excellent surgical and clinical training for orthopaedic surgeons in the care of pediatric orthopaedic conditions
Improve intangibles of being an excellent physician including: sense of responsibility, attention to detail, planning, interactions with staff and patients
Equip our fellows with the skills and vision for a career filled with curiosity and a habit of life-long learning
Provide abundant opportunities to participate in research
Establish mentoring relationships that extend beyond the fellowship into the fellow's career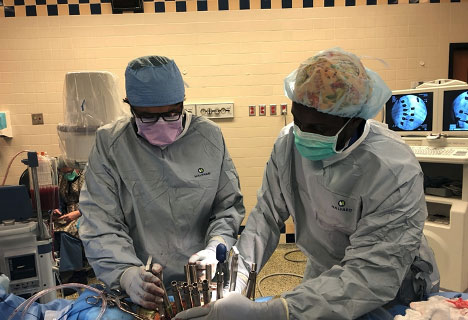 IN-DEPTH, HANDS-ON OPERATIVE EXPERIENCE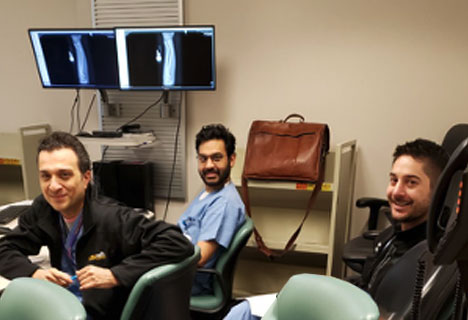 MORNING FRACTURE ROUNDS
Program Structure
Operative Experience
Approximately 75% of a fellow's time is spent in the surgical setting. Each week, fellows have the opportunity to review cases scheduled for the following week from all attendings and select three to four operative days in which they would like to participate.
This part of the fellowship program is designed to give fellows the opportunity to customize their experiences while also participating in diverse case types to attain a solid foundation in pediatric orthopaedics. This format allows fellows to develop a focus within pediatric orthopaedics based on their interest and/or intended future practice. It also assures that the fellows have opportunity to participate in less common, more complex cases for the most comprehensive surgical experience possible. ACGME case logs are monitored and reviewed with the fellow monthly to ensure a diversity of cases are being performed.
Our fellowship provides exposure to the breadth of pediatric orthopaedics including:
General Pediatric Orthopaedics
Early Onset, Congenital, Neuromuscular, and Idiopathic Spinal Deformity
Pediatric and Young Adult Sports Medicine
Hip Preservation Surgery and Hip Dysplasia
Neuromuscular Conditions (including Cerebral Palsy, Spina Bifida, Muscular Dystrophy)
Lower Extremity Deformity
General Pediatric Orthopaedics
Orthopaedic Oncology
Clubfoot and Other Complex Foot Deformities
Pediatric Hand
Trauma and Fracture Care
Clinical Responsibilities
A minimum requirement of one day in clinic is expected of the fellow. Each week's clinic day can be chosen by the fellow from amongst one of the nine attendings. Fellows assist in attending clinics, working directly with patients and the team to formulate treatment plans.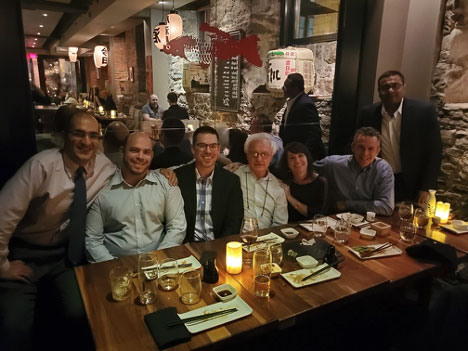 DINNER WITH FORMER FELLOWS AT THE ANNUAL MEETING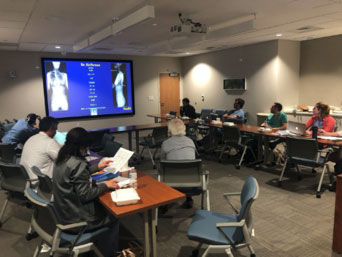 MULTIDISCIPLINARY SPINE CONFERENCE
Didactics and Conference Schedule
Dean MacEwen Annual Visiting Professorship (recent visiting professors include: Ernest Sink, Richard Gross, Tony Herring, Lori Karol, David Skaggs, Alex Arkader, Patrick Cahill)
Spine Conference - Wednesday evening once per month. Multidisciplinary review of all upcoming cases and review of previous cases with > 2 years follow up.
Grand Rounds - Occurs each Friday morning. Rotating schedule of topics which includes: Journal Club, M&M, Indications, Board Review, Resident/Fellow Lecture, Case Conference (Hip, Cerebral Palsy, Sports)
Weekly Attending Lectures - Tuesday/Thursday following fracture rounds. 30-minute lectures covering all aspects of pediatric orthopaedics as well as practical topics such as: The First 5 Years in Practice, Implicit Bias, etc. Total of 35 lectures with associated readings.
Daily Fracture Rounds - Occurs each morning and includes all fractures/ER consults from the previous day.
Preop/Postop Conference - All preops for the week are reviewed on Monday after fracture rounds. All postops are reviewed on Friday after fracture rounds.
Monthly Research Meeting - This conference reviews all current projects and project ideas that are being further developed. Medical students, attending surgeons, nurses, residents, and the fellow participate in this conference.
Research
Our research program has been growing in recent years and includes numerous opportunities through international study groups, existing in-house databases, and original research. A research coordinator and 1-2 medical student research fellows are part of the team available for the fellow to work with. Fellows are provided with educational funds to attend and present at national conferences.
Fellows are also provided with funds to attend the International Pediatric Orthopaedic Symposium (IPOS), the Scoliosis Research Society Annual Meeting, or the POSNA Annual Meeting.
Protected Time
Friday afternoons are protected time to work on academic endeavors including meeting with the fellowship director, research, lecture preparation, etc.
Accreditation
We are accredited by both POSNA and the ACGME which helps to ensure that our fellowship meets a rigorous set of educational standards.
Ancillary Staff
The department has 4 nurse coordinators, 2 nurse practitioners, 4 physician assistants, and 1 non-operative physician. In addition, there is a research coordinator to help with IRBs and research organization.

Meet Our Doctors
Fellowship Director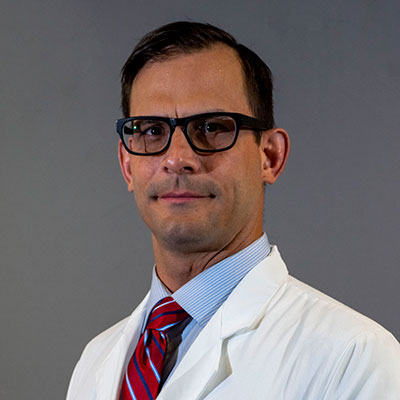 Assistant Professor of Clinical Orthopaedics
Pediatric Orthopaedics
How To Apply
All interested applicants are encouraged to apply through the San Francisco Match Program (SFMP) by registering for the SFMP and selecting the Pediatric Orthopaedic Surgery Fellowship Match.

Eligibility
Foreign Citizens and Non-ACGME or ACGME-I Grads
All applicants must be U.S. citizens, green card holders, or have a J-1 visa. CHNOLA/LSU do not sponsor any other visa type.
All applicants must have completed and passed their Step 3 examination before entering fellowship.
Applicants for this program must have completed an ACGME-accredited orthopaedics residency, or equivalent training.
We accept applications through the SF Match.
Each application must be complete, without references to "see CV" or "see resume".
Applications must include: Dean's letter, medical school transcript, three letters of reference, CV (with no unexplained gaps), USMLE or COMLEX transcript, personal statement, photo and an ECFMG certificate (if applicable).
Interviews
Interview dates are tentatively scheduled to be: 11/6/20, 12/4/20, 1/29/21
Interviews will be done virtually via Zoom for the Fellowship position beginning in August 2022, as a result of restrictions imposed by the Covid-19 pandemic.
Selection
We rank and/or select from eligible applicants based on a combination of their medical school transcript, dean's letter, letters of reference, USMLE scores, and their overall interview.
Applicants are selected and interviewed according to timelines set by the SF Match.
We do not discriminate with regard to gender, sexual orientation, race, age, religion, color, disability or national origin.
For application assistance or program inquiries, please contact:
Lisa Stang , Fellowship Program Coordinator
Children's Hospital New Orleans
200 Henry Clay Avenue
New Orleans, LA 70118
Dominic Gargiulo, DO Fellowship Program Director
Children's Hospital - New Orleans, LA
Department of Orthopaedic Surgery
200 Henry Clay Avenue
New Orleans, LA 70118
(504) 896-9563
dgargi@lsuhsc.edu
---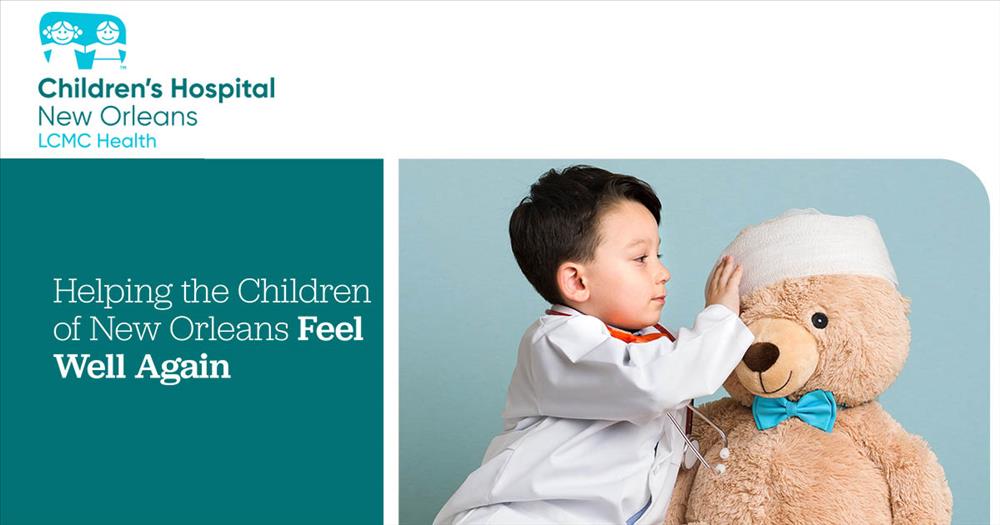 Visit Orthopedic Care at Children's Hospital New Orleans