Orthopaedic Research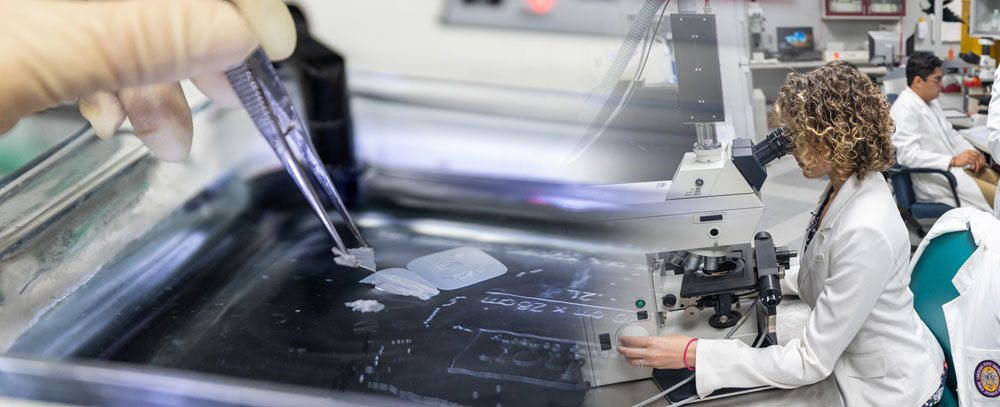 Our team includes faculty, clinicians, residents, students and researchers who are interested in finding answers to today's most pressing orthopaedic illnesses. We search for innovative solutions that will help all patients, as well as for each individual patient.
We include students and residents in our work, to ensure they have the skills and training in how to conduct research that will yield answers, and can develop strategic methods for utilizing these answers across our care continuum throughout the state and region.
Our Program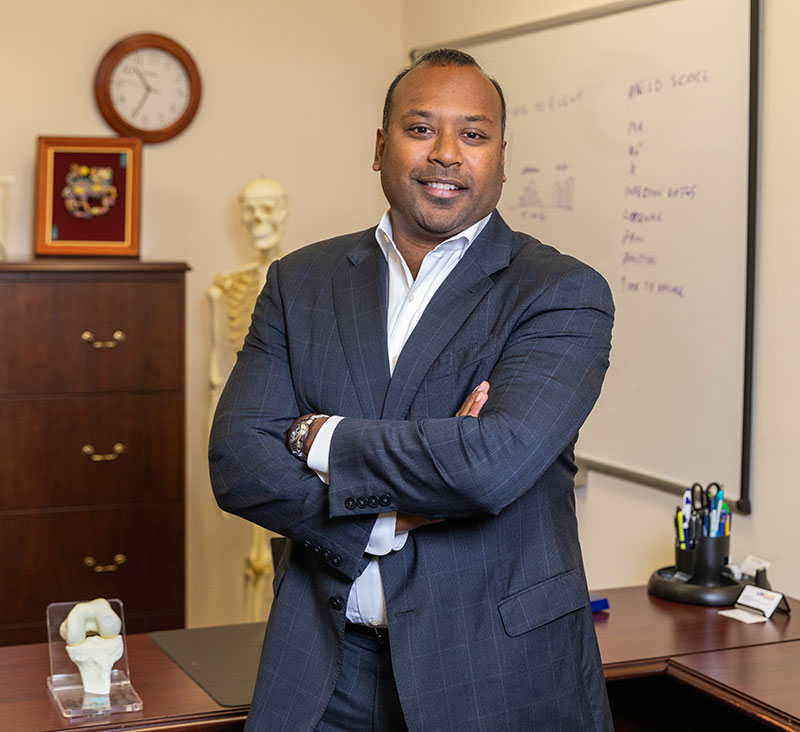 Department Head:
Vinod Dasa, MD

Vice Chairman of Academic Affairs
Irv Cahen Chair of Orthopaedic Surgery and Research
Co-Director LSU Musculoskeletal Research Consortium


The LSU Health Sciences Center Department of Orthopaedic Research conducts comprehensive musculoskeletal research. Our broad expertise ranges from the cellular mechanisms of tissue regeneration to health economics of orthopaedic procedures.

We have created the LSU Musculoskeletal Research Consortium, a comprehensive group of musculoskeletal researchers based across the LSU system focusing on translational musculoskeletal research.
Our team is a strong interdisciplinary collaboration of: 
faculty primarily devoted to research
clinicians who engage in research
resident and student research
basic scientists and allied health professionals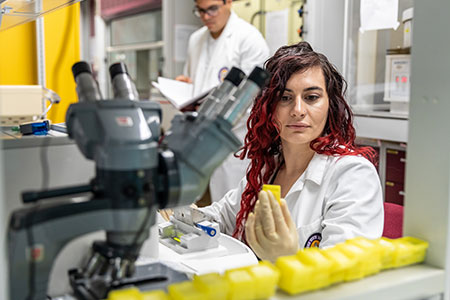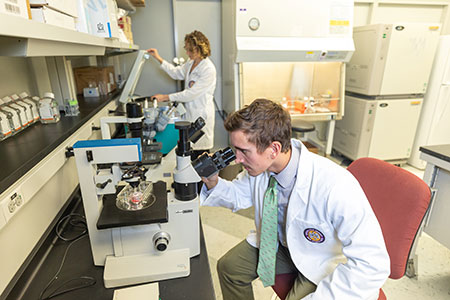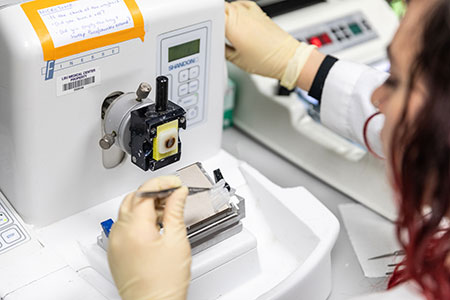 We have developed individualized research programs for residents and students including a unique summer research internship program for students between their first and second years of medical school. Participation in these activities are a vital component of the educational experience and help trainees understand the importance of research in their clinical practice.

Our clinical trials section has grown tremendously over the past few years. With the resources of the LSU Health Sciences Center, our partnership with Ochsner, and Children's Hospital, the research department has the ability to participate in trials across the entire spectrum of musculoskeletal medicine.

Our research programs place a strong emphasis on research quality, and our teams concentrate on generating and implementing new findings to improve orthopaedic care and patient outcomes. 

The cutting-edge research carried out by the LSU is critical to advancing orthopedic medicine. Many of our researchers are involved with other projects across the LSU system and beyond, creating a large source of shareable knowledge and resources.   
Musculoskeletal Research Consortium

Clinical Research:
Clinical Trials
BONEDOC
Disparities of Care
Clinical Researchers
Facilities & Partnerships:
Center for Gait & Movement
Pennington Biomedical Research Facility
University Medical Center (UMC)
Children's Hospital
Oschner Health Centers
VA Hospital - New Orleans
Pennington Biomedical Research Facility
---
Medical Student Research Day 2019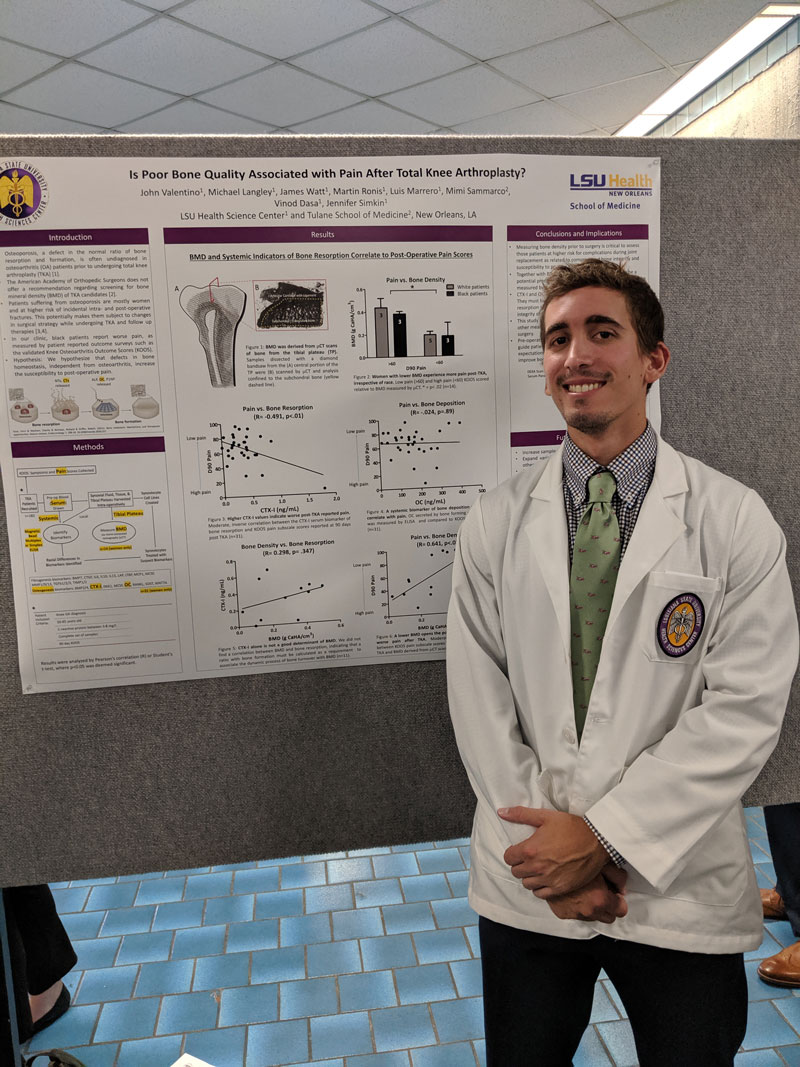 Second Place -  John Valentino (Dr. Simkin/Dasa) "Is poor bone quality associated with pain after total knee arthroplasty?"
View Poster »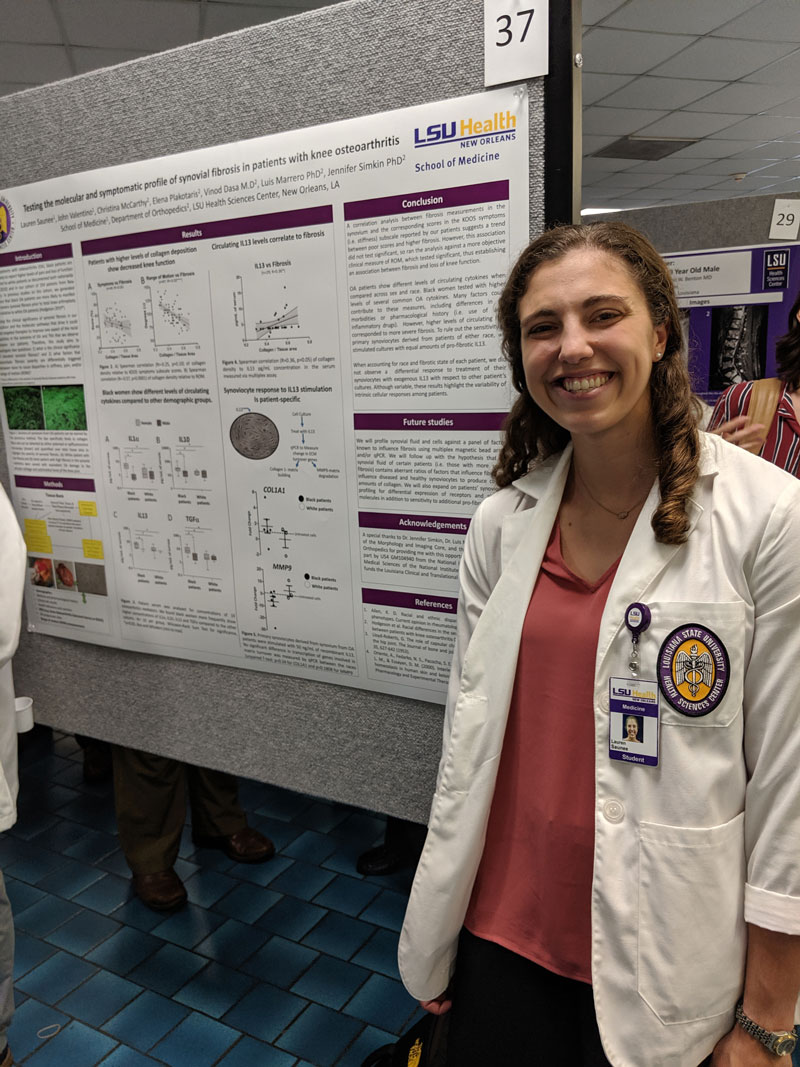 Third Place - Lauren Saunee (Dr. Marrero/Dasa) "Testing mechanisms and clinical outcomes of synovial fibrosis in total knee arthroplasty patients"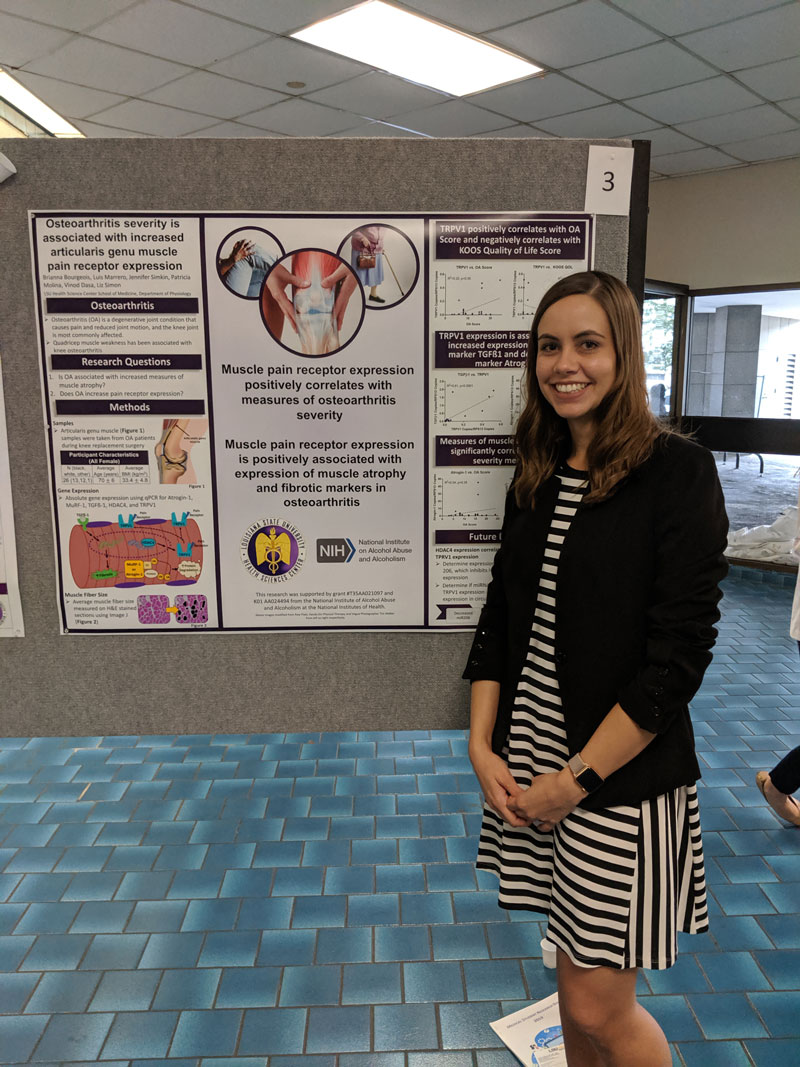 Brianna Bourgeois (Dr. Marrero/Dasa) "Osteoarthritis severity is associated with increased articularis genu muscle pain receptor expression"
Orthopedic Research Society Conference 2019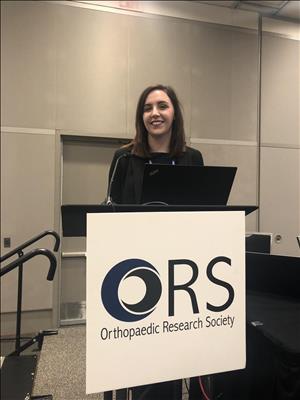 Sydney Hodgeson (2nd year medical student) giving a podium presentation regarding health disparities at the Orthopaedic Research Society conference in Austin, TX
Orthopedic Research Society Conference 2018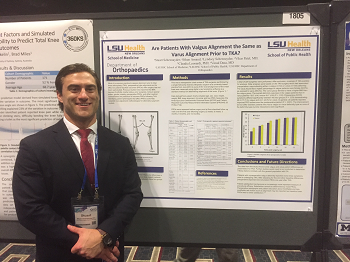 Stuart Schexnayder (4th year medical student) presenting his study "Are Patients with Valgus Aligmment the Same as Varus Alignment Prior to TKA?" Stuart Schexnayder, Ethan Arnaud, Lindsey Schexnayder, Vikas Patel, Claudia Leonardi, Vinod Dasa.
---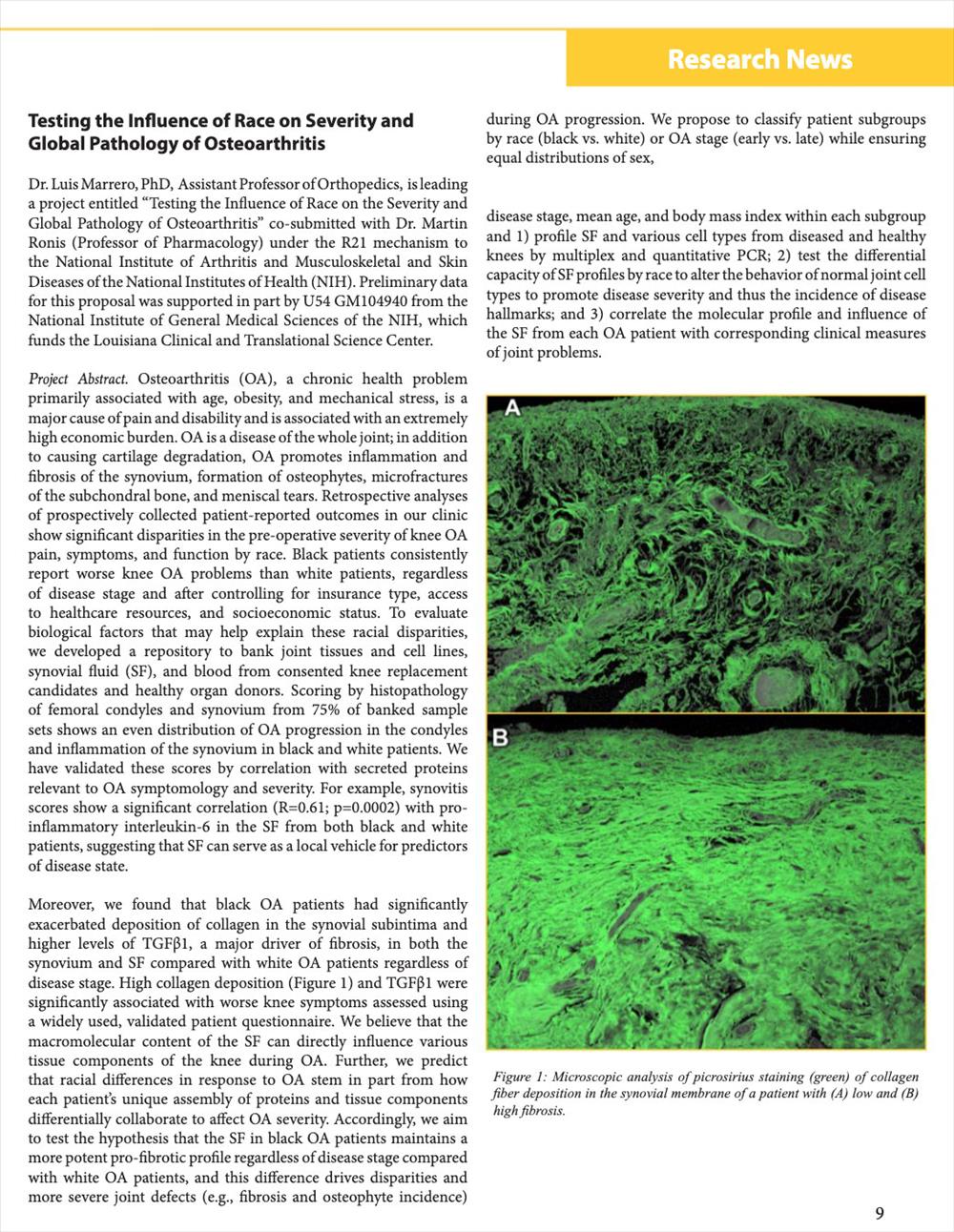 ---
Louisiana Orthopaedic Association Conference 2018
Podium Presentations:
(2nd Place) Healing, Nonunion and Reoperation After Internal Fixation of Diaphyseal and Distal Femoral Fractures: A Systematic Review and Meta-Analysis - Cristina Terhoeve PGY-1. 
Does Type of Insurance Impact Outcomes After Total Knee Arthroplasty? - Hunter Starring (presenter), William Waddell, William Steward, Stuart Schexnayder, Jack McKay PGY-4, Claudia Leonardi, Vinod Dasa.
Poster Presentations:
Cost Savings Using Generic Small Fragment Plating in Lateral Malleolus Ankle Fractures at a Level 1 Trauma Center - Thomas Royals PGY-5 (pictured), Robert Zura.
Arthroscopic Biceps Tenodesis is an Effective Surgical Method for Biceps Tenodesis - Thomas Royals PGY-5 (pictured), K DeJean, B Cascio. 
Anterior Cervical Plate Position and Clinical Outcomes after Anterior Cervical Discectomy and Fusion - Matthew Delarosa PGY-5, Tyler White PGY-2 (pictured).
Hip Arthroscopy Outcomes - Jack McKay PGY-4 (pictured), BM Cascio, K Dejean. 
Traumatic Heterotopic Ossification and Risk Factor Analysis in a Civilian Cohort - Michell John, Stuart Schexnayder (pictured), Matt Fury, Harry Molligan, Peter Crause, Vinod Dasa. 
Are Patients with Valgus Alignment the Same as Varus Alginment Prior to TKA?  - Stuart Schexnayder (pictured), Ethan Arnaud, Lindsey Schexnayder, Vikas Patel, Claudia Leonardi, Vinod Dasa. 
The Formation of a Medical Student Research Committee and Its Impact on Involvement in Orthopaedic Departmental Research- Stuart Schexnayder, Hunter Starring (pictured), Matt Fury, Arthur Mora, Claudia Leonardi, Vinod Dasa.