Resident Spotlight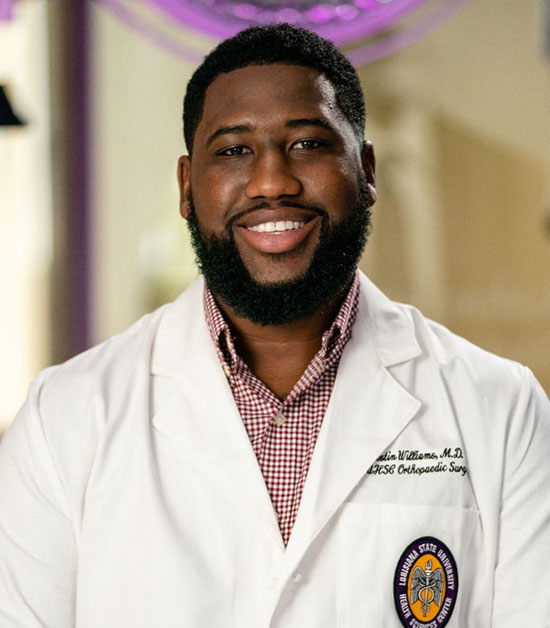 The trauma rotation has also proved the most challenging. Because of the heavy influx of patients, you are always busy either in the operating room, seeing consults, or managing the floor.
- Jestin Williams, MD, PGY-2
Resident Spotlight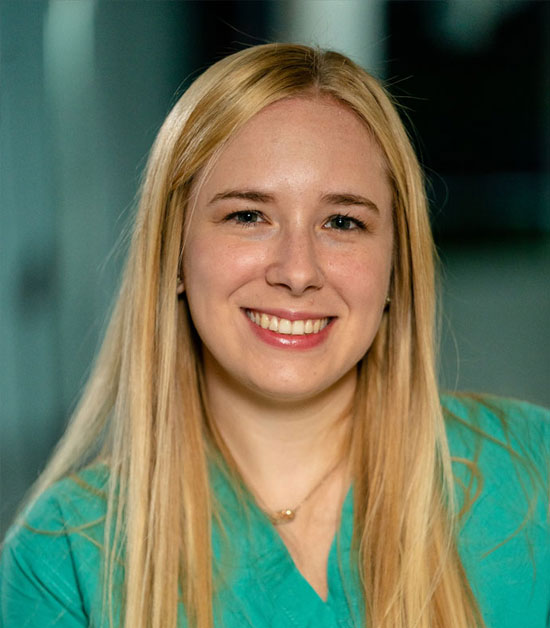 My favorite rotation has been my trauma rotation at UMC as a PGY-2. It exposed me to the full range of acute orthopedic injuries.
- Christina Terhoeve, MD, PGY-4
2019-2020 Guide to Resident Rotations
Overview
The LSU Orthopaedic program gives residents early autonomy in the operative suite that progresses throughout their residency. Residents, as early as PGY-2, operate independently with appropriate senior resident supervision. As a graduate of our program, you will gain the necessary confidence and move on to your respective institution feeling well-equipped to handle various orthopaedic cases. 
Residents contribute and take part in weekly/monthly didactics. Monthly grand rounds with guest lecturers are attended by both residents and faculty. A highlight of the didactic curriculum is the monthly cadaver labs often led by world-renowned surgeons.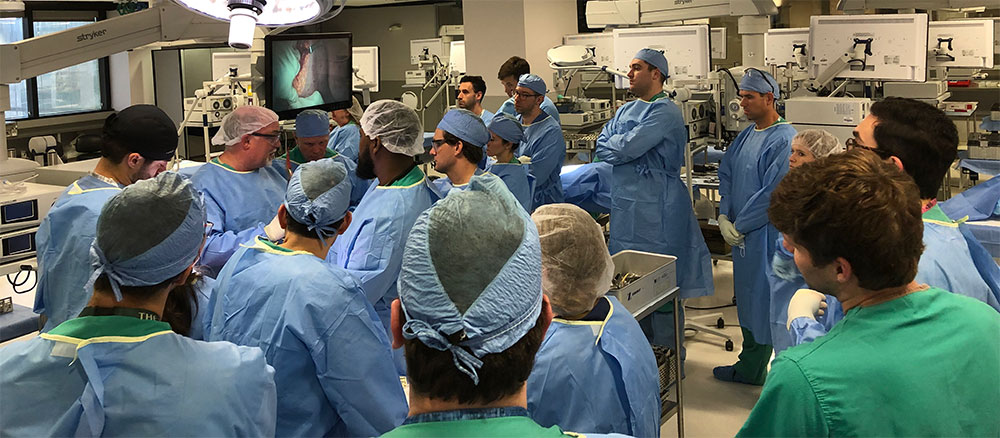 Our program boasts a very large volume of penetrating trauma and orthopaedic injuries incurred from such trauma, and our residents are expected to master the diagnosis and treatment these orthopaedic injuries. Residents run services and clinics with minimal oversight and are held to high expectations. Our residents are comfortable in handling complex trauma cases and the basic fracture patterns one would encounter in a community practice setting. They are comfortable managing complex poly-trauma patients and managing long bone fractures. We get a well-rounded training focused on trauma with plenty of focus on the orthopaedic subspecialties. 
Access to a level-1 trauma center, a pediatric orthopaedic service, and an orthopaedic oncologist all in the same city under the LSU umbrella, makes our program unique. Additionally, our residents spend much of their training with a high-volume private practice in Baton Rouge, LA and at a high-volume community hospital in Lafayette, LA. Residents get ample clinical/operative experience in all orthopaedic subspecialties and see a wide variety of common to rare/complex pathology. Because of our early and frequent experiences in the operating room, our graduating residents feel comfortable either moving on to fellowship training or to general practice.
All of our residents receive an annual stipend in the amount of several hundred dollars for orthopaedic texts which they can use at their discretion. Thanks to generous donations from our alumni, all incoming residents will receive personalized lead and loupes. Additional support/funds exist for each residency year to travel to courses.
PGY-1
Children's Hospital - New Orleans, LA

Pediatric Orthopaedics (3 months)

Rotation with faculty focusing on pediatric orthopedics, orthopedic oncology, and scoliosis
As an intern, this is a unique rotation that offers a very hands-on operative experience
Monthly grand round presentations
Daily fracture conference discussing previous day's surgical cases and emergency department consults (educational)
Monthly journal club
Call with Chief Resident (PGY-4)
Extensive experience in fracture reduction, splinting, casting
Extensive research opportunities with children's faculty

VA Medical Center - New Orleans, LA

General Orthopaedics

Residents will spend one day a week scrubbing cases with Dr. Christopher Marrero

East Jefferson General Hospital - Metairie, LA

Spine

Residents will also spend one day a week scrubbing adult spine cases with Dr. Abe Kumar

University Medical Center - New Orleans, LA

Orthopaedic Trauma (3 months)

Responsible for day-to-day floor coverage and consult management from 7A-7P
Early high volume hands-on operative experience
Extensive experience with fracture reduction, fracture management, and management of poly-trauma patients
High-volume penetrating trauma
Experience with orthopaedic trauma, foot/ankle surgery, sports medicine

Neurosurgery (1 month)

High-volume private practice neurosurgery practice
No call
Scrub Spine cases only
Minimal clinic; primarily operative experience

Plastic Surgery (1 month)

Learn the basics of soft tissue coverage in relation to orthopaedic trauma
No overnight call
Help manage day hand consults
Majority of cases scrubbed are Hand Cases
Experience in flap coverage, skin grafting, and dermal biologic substitutes

Musculoskeletal Radiology (1 month)

Attending directed experience in reading MSK radiology
Experience in reading MRIs

General Surgery Trauma (1 month)

Experience at high-volume Level 1 trauma center
Experience in managing poly trauma patients with both visceral and orthopedic injuries
24-hour call with the trauma team
Work with emergency department personnel/trauma surgeons in trauma activations

Burn Surgery (1 month)

Learn the basics of treating soft tissue injuries
Extensive experience with skin grafting, dermal substitutes, soft tissue management

Trauma Intensive Care Unit (1 month)

Learn the basics of managing poly trauma patients, triaging and injuries
Call with trauma chief and second-year resident
Experience in central line placement, chest tube management, etc.
PGY-2
University Medical Center - New Orleans, LA

Orthopaedic Trauma (6 months)

2 days of clinic per week
2 operative days a week (Tuesday/Thursday)

Extensive experience in the basics of orthopedic trauma
High-volume femur nails, tibial nails, ankle fractures, peri-articular  fractures, pelvis/acetabulum, upper extremity trauma, ortho poly trauma
High-volume level one trauma center with penetrating trauma
Extensive experience in managing gunshot wounds with orthopedic injuries
Extensive experience in managing polytrauma orthopedic surgery patients
Bi-monthly foot/ankle operative days with Dr. Meredith Warner
Experience in knee/shoulder arthroscopy, ACL reconstruction, rotator cuff reconstruction

Shared call with a second PGY-2 resident

Extensive experience in a fracture reduction, hand trauma, spine trauma
Alternating months of hand call, spine call every five weeks

Responsible for daily rounding on floor patients and shared responsibilities for floor management
Extensive experience with multi-disciplinary management of patients; working with physical therapist, occupational therapist, social workers
Dedicated PA-C for orthopedic trauma service responsible for floor management and social work/DME

Adult Reconstruction (3 months)

Responsible for running adult recon service
Work directly with staff performing both primary total knee/hip and complex revision cases
2 full days of clinic and 1 half day of clinic
2 full operative days

Pediatric Orthopaedics (3 months)

Shared call pool with PGY-2/PGY-3/PGY-4 residents
Extensive experience in fracture reduction, splinting/casting, fracture management
High-volume surgical practice with extensive experience in Basic pediatric orthopedic cases and scoliosis surgery
Responsible for assisting/overseeing intern responsibilities
Rotating services with specific attendings for approximately two weeks

Experience with sports, scoliosis surgery, orthopedic oncology, general pediatric orthopedics
PGY-3
Baton Rouge Orthopaedic Clinic - Baton Rouge, LA

Sports Medicine

Learn the basics of sports medicine physical exam, evaluation, and diagnosis
Learn interpretation of advanced imaging studies
Extensive experience with shoulder and knee arthroscopy, hip arthroscopy elective weeks available if desired by the resident
Call is at a Level 2 trauma center that functions as a Level 1 - only take unreferred ER calls for new consults when your assigned attending is on call "LSU Call" (call for LSU post-op patients only and NOT new consults is q3)
Baton Rouge has their own journal club which many program alumni practicing in the region attend
General orthopaedics OR at a university-owned surgical center one day per week
Hands-on experience with many "bread and butter" cases - high amount of autonomy in the OR
Have the opportunity to work with the team physicians for LSU football during the fall season
Working with the football team includes attending practices, attending post-practice clinics at the stadium, and the potential to be on the sidelines on gameday with the team if interested   
Cover an assigned high school football team during home games
If you are not on the rotation during the fall, the opportunity exists to participate with other LSU athletes (baseball season, etc.)

 Oschner Medical Center - Kenner LA (suburb of New Orleans)

Arthroplasty

Work with three physicians specializing in adult reconstruction
2-3 days a week of OR time and 2 days of clinic per week 
Learn the evaluation and management of knee and hip arthritis as well as complex conditions such as failed prior arthroplasties 
Gain experience in preoperative templating total joint arthroplasty cases
Have the opportunity to scrub cases in shoulder arthroplasty with our PD, Dr. Hartman, if desired
Call is at a community hospital and is 5 days per month for new consults 
Call is a great experience to see more geriatric trauma/hip fractures and is an adjunct to the type of traumas seen the first 2 years of residency at the Level 1 trauma center
Call for postop patients only is every other night
Attend conference in New Orleans every Wednesday morning

Lafayette General Orthopaedic Hospital - Lafayette LA

General Orthopaedics

Excellent general orthopaedic surgery experience
Resident's will have their own clinic with their own nurse
Surgeries booked from clinic will be booked under the resident's name into their own OR
Opportunity to tailor the experience based on the resident's interest by booking more cases of the category you want more experience with (ACL reconstruction, complex extremity trauma, shoulder arthroplasty, hand/upper extremity surgery, etc.)
No ER call and no weekends
Extremely high amount of autonomy in the OR - faculty serves more of a supervisory role which fosters an atmosphere for resident decision making and troubleshooting
Resident is in charge of picking all vendors/implants for the planned cases which is an extremely valuable learning tool for future practice
One morning a week will scrub 1-2 Knee/Hip/Shoulder arthroplasties with a community surgeon before clinic starts
Video conference with New Orleans weekly on Wednesday mornings

Hand Center of Louisiana - New Orleans LA

Hand Surgery

2-3 OR days/week and 2 days of clinic
Operate at both a private surgical center based around hand surgery, as well as at University Medical Center (UMC)
Opportunity to work with one of the most well-known hand surgeons in the United States
Excellent level of autonomy in the OR
Resident gains experience in preoperative planning and implant selection for all cases at UMC
Take trauma call with the trauma team 2 days per month at UMC, there is no other call obligation
No weekend clinical responsibilities
Gain experience with "both sides" of hand surgery at both locations - the traumatic "mangled extremity" and more chronic outpatient conditions at the other facility
Attend weekly Wednesday morning academic conferences and monthly journal clubs in New Orleans
PGY-4
University Medical Center - New Orleans, LA

Orthopaedic Trauma (3 months)

2 days of clinic per week
OR 2x a week
Flex Friday: foot/ankle cases, arthroplasty cases, or protected education time on Fridays
Upper-level home call, upper-level resident typically comes in for cases
Responsible for teaching and supervising junior residents in the OR, providing support for consults
Responsible for choosing case order, positioning and implants for OR cases

Residents learn to consider overall workflow of the OR
Must have good understanding of when and why to use which companies for cases

Coordinates trauma specific weekly teaching

Usually choose 3-4 articles per week to discuss Monday morning

Support junior resident at weekly indications conference

Spine

Work with Dr. Kumar at UMC, Tertiary Spine Center
By the end of the spine rotation, resident is proficient and can complete ACDF and MIS spine instrumentation, as well as similar cases
Large volume of ALIF, lateral interbody fusion, as well as adult deformity, as the tertiary referral center in the area
Spine call is 1-week q5-6 weeks
See a wide variety of acute pathology

Orthopaedic Oncology

Work with Dr. Cable at UMC

OR Wednesday
Clinic Thursday

Tertiary referral center for the entire state, parts of Texas, and Mississippi
See many "Zebras"
Work closely with pathology, MSK radiology, radiation oncology, and surgical oncology teams
Provides a great introduction to oncology for all residents
Leave the rotation comfortable with a tumor workup

Children's Hospital - New Orleans, LA

Chief Resident

Coordinate junior residents at Children's Hospital
Mentorship model, change attending weekly
Handle concerns and call schedule
Responsible for supervising intern on Children's Hospital rotation
Goal is for intern to be proficient in upper and lower extremity reductions and casts, so they are ready for call as a PGY-2 and PGY-4
Opportunity for increased autonomy if demonstrate technical ability and desire

Baton Rouge Orthopaedic Clinic - Baton Rouge, LA

Foot & Ankle

Work with a former LSU resident with his large, high-volume private group
2 days of clinic, 2 days of OR + see patients at the LSU Medicaid Clinic in BR
Learn valuable and very applicable clinical and surgical skills
Help cover Dr. Lalonde's "city call"
Free lunch every clinic
A chance as an upper level resident to take a step back and get invaluable insight into a very successful private practice model

Adult Reconstruction (3 months)

Work directly with staff performing both primary and complex revision total hip and total knee arthroplasties
Heavy hands-on experience, 3-4 cases per week
Wide variety of Adult Reconstruction cases, such as AVN of the hip, hip and knee deformities, periprosthetic  infections, use of spacers, constrained and hinge devices, segmental replacements
PGY-5
University Medical Center - New Orleans, LA

Orthopaedic Trauma Chief

Head of the orthopaedic trauma service
In charge of coordinating ORs, call cases, implant vendors
Take backup home call for a junior resident and primary call for LSU Ortho patients
In charge of setting up the LSU Orthopaedics journal clubs
Teach "bread and butter" trauma surgery to junior residents while receiving increased autonomy in complex cases

Baton Rouge Orthopaedic Clinic - Baton Rouge, LA

General Orthopaedics Chief

In charge of your own general orthopaedic clinic
Have 2-3 OR days a week with extremely high levels of autonomy
Coordinate schedules, implants, etc.
Have the opportunity to do a half day clinic every week at Angola State Prison Farm
Can tailor experience based on your interests
In charge of arranging Baton Rouge journal clinic
Take "LSU" call only, no call for new consults
Work with subspecialized surgeons in the area to help cover complex cases at the LSU ASC

Lafayette General Orthopaedic Hospital – Lafayette, LA

General Orthopaedics Chief

Similar to description of PGY-3 Lafayette rotation, you are in charge of the service

Oschner Medical Center – Kenner, LA (suburb of New Orleans)

Sports Medicine 

Work with our Residency Director, Dr. Hartman
Great experience advancing skills in complex shoulder and knee surgery
Have the opportunity to do arthroplasty cases several days a month with high levels of autonomy
ER home call 5 days a month at a community hospital