Thomas Stang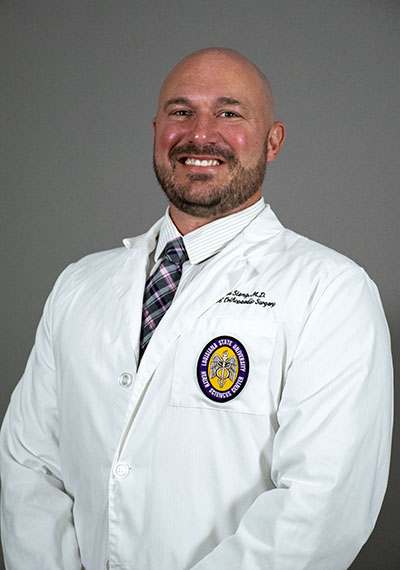 Florida Orthopaedic Institute Orthopaedic Trauma Fellowship
Class of 2021
Hometown
Osceola, Wisconsin
What medical school did you attend?
Lincoln Memorial University
What undergraduate school did you attend? What did you study?
University of Wisconsin - Biology
What advice would you give to incoming residents?
Work hard and be a team player. Keeping the sense of family in the back of your mind makes every challenging day in residency that much easier.
---
What originally attracted you to the LSU SOM Ortho Residency program?
The level of autonomy afforded to the residents of the LSU orthopaedic program was most impressive, and I connected with the sense of camaraderie. The feeling that everyone was part of a family made LSU stand out, and it seemed reflected in the level of support they provide residents.
What has been your favorite rotation so far and why?
My trauma rotation at the University Medical Center (UMC) was a great rotation to test myself, my abilities, and to help me build confidence in my orthopaedic knowledge and decision making. I could also hone my skills in the operating room in a controlled, autonomous situation which is invaluable.
What has proved the most challenging?
Managing the difficulty of balancing work and family life, especially as a non-traditional student. After 9/11, I placed my future medical ambitions on hold, enlisted in the military and remained on active duty for 12 years. During that time, I also started a family. I am now married to my beautiful wife and have two amazing children, a son (10) and a daughter (8). Now that my medical career has started, I've faced a set of new and different challenges. It is difficult to balance the rigors of residency while maintaining the same level of commitment to my family life that I am accustomed to. Therefore, I consider myself a non-traditional resident: I am older than my peers, I've had some life experiences that have helped shape my perspective, and I have a growing family. Thankfully, I also have a supportive and amazing spouse who carries the burden of being a single parent when necessary. It's also helpful to have a family of co-residents who are not only understanding but willing and able to have my back and allow me to successfully balance being a physician, husband, and father.
Is there ONE (rotation, or teacher, or situation or something) that will benefit you or your career for the better that you can share?
The autonomous nature of this program is where I have learned the most, experienced difficult challenges and needed to make real-world decisions. Being thrust into situations where I have to decide on fracture fixation puts me in the "hot seat" early. I am confident that because of this experience I will hit the ground running going into fellowship and beyond.