Why Does Louisiana Have a Higher Death Rate With Fewer Cases Than Other States? LSU Experts Weigh In.
Dr. Robert Zura, Head of the LSU Department of Orthopaedic Surgery, and Dr. Vinod Dasa, Director of Research, discuss the alarming statistic that has Louisiana leading the U.S. in the number of coronavirus deaths per confirmed case.
Dr. Zura:
"The higher morbidity rate in Louisiana in response to COVID-19 puts the need to eliminate health disparities once again in the spotlight. In Louisiana and specifically within the community LSUHSC is committed to serving, disparities in access to health care, proper nutrition, transportation, even greener living environments result in higher incidences of arthritis, poorer bone quality, and higher risks for poor surgical outcomes. For these reasons, our department has been and continues to be dedicated to finding and changing the systems that contribute to health inequity.

Our teams investigate not only why health disparities exist but also how to address them both at a social and biological level. We incorporate changes in health care systems such as a move to payment models based on outcomes and quality, while examining what it means to be a high risk patient within these new systems. We remain committed to providing quality care for all patients while identifying widespread social inequalities that contribute to poor health. The current situation is highlighting the urgency of this research, and I'm proud of the relentless work of our faculty, residents and students to create paths toward health equity."
Dr. Dasa:
"Social determinants of health (SDOH) is a significant factor in understanding why some communities have a disproportionate impact of various diseases and medical problems. Health care is moving from a traditional fee for service model, where the more you do the more you make irrespective of outcomes, to alternative payment models which reimburse physicians and hospitals based on outcomes and quality. As this shift takes place, the tendency of healthcare providers, whether intentional or not, will be to avoid taking care of high risk patients (lemon dropping) or preferentially taking care of lower risk patients (cherry picking) to maximize payments.

To eliminate this tendency, we have to pay very close attention to how we define successful outcomes. Ongoing research within our department investigates why health disparities exist and how to address them and allows us to level the playing field for patients who are higher risk of poor outcomes. As many would expect, those patients who are at higher risk for poorer outcomes tend to be already marginalized (non white, poor, female etc.). Without the research and a better understanding of exactly how to properly risk adjustment, we will potentially exacerbate health disparities further marginalizing at risk patients, make our communities even less healthy and cost the tax payer even more money."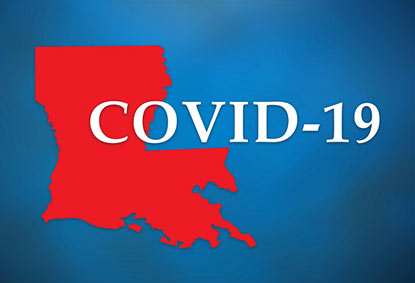 Get more info on this developing story from Reuters Correspondent Brad Brooks, and his recent article "Why is New Orleans' coronavirus death rate twice New York's? Obesity is a factor."

About LSU Department of Orthopaedics
The LSU Department of Orthopaedics remains dedicated to the principles of providing exceptional patient care, training outstanding residents, and engaging in innovative research. Our faculty is fellowship-trained in all specialties and dedicates significant time to continued scholarly activities. Many of the faculty are involved in innovative research and internationally recognized. The department boasts an extensive alumni base across Louisiana that further enhances the educational and collaborative efforts. Roughly 70% of the orthopaedists practicing in the state are graduates of our program.

The LSU orthopaedic residency program accepts four residents each year through the NRMP & ERAS. We also offer a pediatric fellowship. Most program graduates choose to complete a specialty fellowship after graduation. Our residents are very involved in the day-to-day running of the program and are active members of the department and University committees. Residents are promoted based on their competency towards set goals & objectives and take an active role in their leadership development throughout their five years of training.

The residents train at several locations throughout the State of Louisiana, ensuring exposure to a wide range of orthopaedic conditions. Practice settings range from academic to private practice, urban to rural. For more information, please visit our mission page