Cristina Terhoeve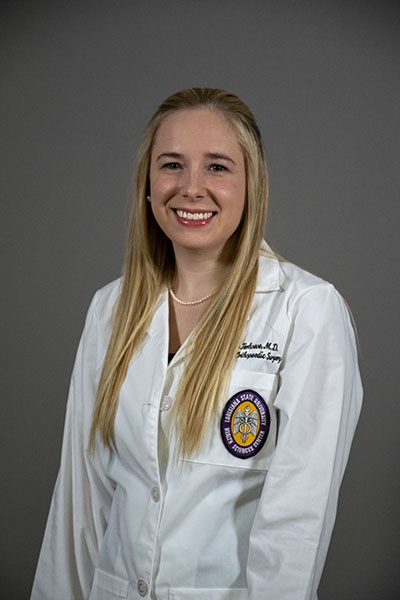 University of Chicago Hand Surgery Fellowship
Class of 2022
Hometown
Baton Rouge, LA
What medical school did you attend?
Louisiana State University New Orleans
What undergraduate school did you attend? What did you study?
Rice University - Double majored in Biological Sciences and Psychology
What advice would you give to incoming residents?
1. Any time you hear something being discussed that you don't know much about, write it down and read about it when you get home.
2. Never lie about a physical exam finding you forgot to do or an aspect of the history you forgot to ask. This can affect clinical decisions that are made and you will lose credibility.
3. Always be on time.
4. Always be nice to the nurses, case managers, scrub techs, etc. no matter how tired or frustrated you are.
---
What originally attracted you to the LSU SOM Ortho Residency program?
Although I based my decision on many factors, the Orthopaedics program at LSU was a natural fit. Having attended LSU for medical school, I've connected and bonded with a talented mix of residents and staff. It impressed me how self-sufficient all the residents functioned, and they were great mentors, walking me through procedures in both the emergency room and with suturing. They also lacked the superiority complex I had witnessed at other programs where I had rotated. If ever I felt unsure of how to proceed in a patient care situation, I knew I could feel comfortable asking an LSU resident a question (even late at night) without being judged. In terms of volume and experience, New Orleans was second to none, particularly regarding penetrating trauma. Growing up in Baton Rouge, I relished the thought of working with the LSU sports teams and being on the field during LSU football games had been a dream of mine for a long time. Last, but not least, I've grown accustomed to living in New Orleans over the past four years and was not ready to leave the culture, food, architecture, people, and laid-back atmosphere. There is always some event going on whether it be a festival, football or basketball game, marathon, happy hour, etc. I have plenty of exploring left and there is still so much I want to experience in this great city.
What has been your favorite rotation so far and why?
My favorite rotation has been my trauma rotation at the University Medical Center (UMC) as a PGY-2. It exposed me to the full range of acute orthopedic injuries. There is a large learning curve that takes place during this rotation both to manage consults and learning to operate. I took pride in being able to manage consults with minimal guidance and perform all ED procedures and reductions without help. In the operating room, the staff or chief resident walk the PGY-2 through cases, which is a great learning experience.
What has proved the most challenging?
I believe the most challenging part of residency is the realization, particularly as a lower level, that your time is not your own. Maintaining personal and family relationships has been more difficult than expected. It is a challenge to manage personal time with work demands. This is, however, a reality of the medical profession. Unfortunately, in medicine, it can be very difficult to predict how busy you will be and subsequently it's hard to prepare accordingly. With this being said, it makes you really appreciate the time you have with your family and loved ones and you learn to make the most of it.
Is there ONE (rotation, or teacher, or situation or something) that will benefit you or your career for the better that you can share?
The rotations at LSU allow for varying amounts of autonomy in the operating room, which allows residents to learn how to operate and then subsequently perfect their technique. You learn from observing others and then try to implement what you've learned. You struggle through it and then continue to learn from others to further refine your own skills. This allows you to fine-tune your technique and learn different methods to approach any difficult situations you encounter in surgery.