LSU Orthopaedic Assistant Professor, Dr. Anna Cohen-Rosenblum, Selected for LCMC Health Academic Leadership Role
July 9, 2020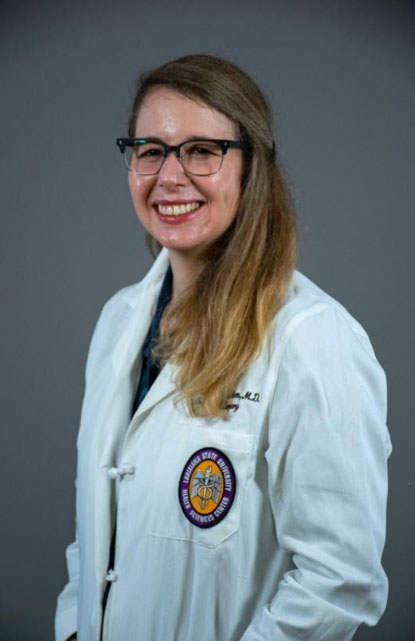 At the start of the new academic year, Dr. Anna Cohen-Rosenblum will helm LCMC Health University Medical Center (UMC) New Orleans as its newly appointed Medical Director of Academic Affairs. Dr. Cohen-Rosenblum welcomes the additional responsibilities and will remain an active and integral part to the LSU Department of Orthopaedics, serving as an Assistant Professor and continuing her current research:
The effect of joint replacement education class on postoperative outcomes.
Adherence to multimodal postoperative pain control regimens in elective primary total joint arthroplasty.
Comparison between iPACK block and intraoperative administration of local anesthetic to the posterior capsule in primary total knee arthroplasty.
Biological predictors of poor surgical outcomes associated with total knee arthroplasty.
The accuracy of predicting total knee arthroplasty implant size using shoe size.
Read full the announcement from LCMC leadership
More about LCMC Health University Medical Center New Orleans:
With 650 physicians and more than 2,700 employees, University Medical Center is a leading center for treating patients with a wide variety of conditions. We are the only Level 1 Trauma Center in the region. With healthcare treatment options that cover the range of your patient needs, we are helping you live your best life. Our partnerships with LSU Health New Orleans and Tulane University School of Medicine, along with other colleges and universities, means we are committed to training the healthcare providers of tomorrow today. Each year, we train more than 1,000 residents, 1,200 nurses, and 1,400 other health care students. How does this benefit our patients? We are able to offer the latest advancements in care to help patients live their best life.