Jestin Williams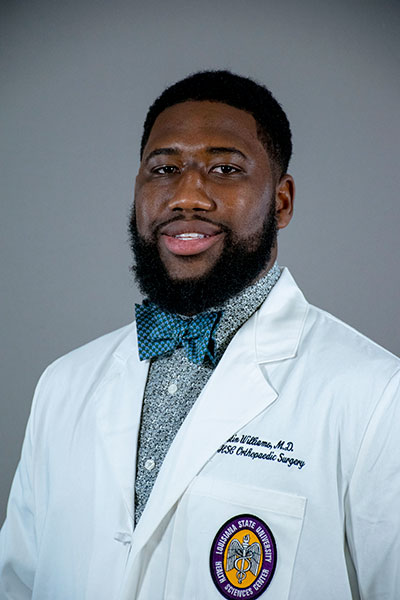 Year
PGY-4
Hometown
Nashville, Tennessee
What medical school did you attend?
Meharry Medical College
What undergraduate school did you attend? What did you study?
Alcorn State University - B.S. Biochemistry
What advice would you give to incoming residents?
Never give up on your dreams and always strive to be the best "you", you can be in any situation.
---
What originally attracted you to the LSU SOM Ortho Residency program?
The attendees, comradery of the residents, and diverse patient population attracted me to the LSU Orthopaedic Residency. Attendees are dedicated to their craft and take a hands-on approach to teaching, allowing residents to learn by walking through different lessons or techniques step by step. The residents' function as one big family and often hang out with each other. Everyone learns and helps one another grasp new concepts, and the patient population you see is very diverse. This exposure enables residents to gain insights to treat a multitude of patients.


What has been your favorite rotation so far and why?
The trauma rotation has been my favorite. Trauma volume is very heavy at the University Medical Center (UMC), so you have to contribute significantly to help distribute the work. This allows you to get your hands "dirty" early on, which is always fun. Running around answering pages, seeing consults, operating all day could seem overwhelming to some but to others it's just a great learning experience that I take full advantage of.


What has proved the most challenging?
For the same reasons I enjoy it most, the trauma rotation has also proved the most challenging. Because of the heavy influx of patients at the University Medical Center (UMC), you are always busy either in the operating room, seeing consults, or managing the floor. The constant work makes time management key during this rotation.


Is there ONE (rotation, or teacher, or situation or something) that will benefit you or your career for the better that you can share?
My first encounter with an LSU Orthopaedic attendee was with Dr. Marrero. He had come to my medical school to give a sawbones lecture, and I recall him exercising great patience as us young, eager medical students bombarded him with questions. Even after the lecture, he stayed hours over to further answer questions and even gave his personal contact information. During my time leading up to away rotations, I constantly reached out to him and he was very receptive, always giving great mentorship. His commitment to giving back and helping others is a quality I can only hope to emulate one day.