LSU Health Med Student Jumps in to Help Critically Injured Deputy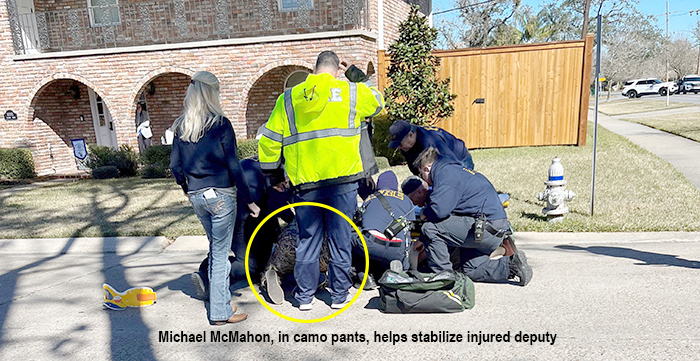 When LSU Medical Student, Michael McMahon, was heading home after a morning of duck hunting, the last thing he expected was to save a life. However, that exactly what happened on this Saturday monring. McMahon's brother called him after coming upon a scene of damaged vehicles and someone on the ground and told him to hurry. What McMahon saw when he arrived would chill anyone. A Jefferson Parish Sheriff's deputy who had been escorting a funeral provession when a car hit his motorcycle, he had been ejected roughly 30 feet.
McMahon was able to ensure the deputy had a cleared airway, bring the deputy back from unconsciousness, and take note of the extreme trauma to his lower limb.
McMahon says the hands-on experience that LSU Health New Orleans medical students experience during their training was a major deciding factor on going to school there. And it proved to be true.
"...I felt confident enough to help out with a patient in critical condition," McMahon said. "The lessons I have learned since starting medical school gave me the confidence to know that I could make a positive contribution in the situation."


Though McMahon downplayed his role stating he just happened to be one of the people helping. His faculty and medical school administration dont see it that way. "Michael saw the accident and was a first responder," says Dr. Robert Zura, Professor and Chair of Orthopaedics. "He stabilized and comforted the officer. He maintained his C-spine until Emergency Services arrived. He astutely diagnosed a very high-energy femur fracture that can be fatal. He notified our team - on which he was a rotating student - to make us aware of this critically injured public servant heading our way. We are very proud of this young man."
"Michael McMahon represents the best of us and the high quality of our medical school," says Dr. Steve Nelson, LSU Health New Orleans Interim Chancellor. "We're already seeing what an outstanding physician he will be!"
LSU Orthopaedics is proud of Michael McMahon and his ability to stay calm under pressure, take charge, and save a life!
Read the Full LSUHSC Article Here Read the 107.9 Article