Dr. Luis Marrero's Lab
- Assistant Professor, Department of Orthopaedic Surgery
- Director, Morphology and Imaging Core
- Co-Director, Musculoskeletal Sample Repository"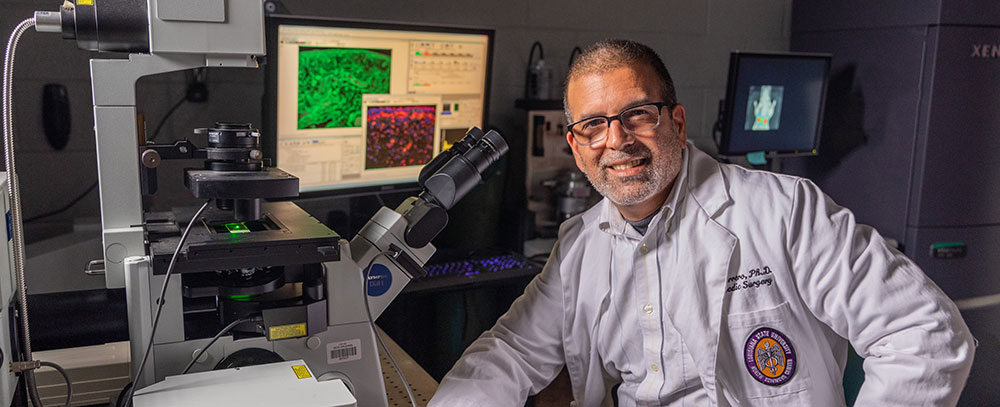 Overview
Dr. Marrero's research is focused on the repair of components of human limbs that have been damaged by disease or trauma. Three main projects drive his research and these are designed around his background in the regeneration of limb structures and expertise in histopathology, analysis of protein and RNA expression in situ, and numerous applications of imaging modalities both in vitro and in vivo on animal, non-human primate, and human disease models.
Projects
First, using a platform of disparities of care in orthopedics by race, gender, and/or age, Dr. Marrero is looking into differences in the underlying molecular mechanisms that drive fibrosis during joint disease and following the trauma of joint replacement surgery between local subgroups of patients affected by osteoarthritis. Specifically, he is studying the differential modulation of pro- (e.g. TGFbeta-1, IL13) and anti-fibrotic (e.g. IL10) factors that are known to participate in extracellular matrix remodeling during injury and repair of the joint by means of histopathology, protein profiling, and transcriptome analyses of normal and diseased components of joints harvested during surgery and banked in our Musculoskeletal Specimen Repository. He then correlates these findings with measures of joint stiffness, pain, and function gathered from each patient, thus adding clinical significance to the project.  Second, in collaboration with Drs. Keith van Meter and Mimi Sammarco from the Division of Emergency Medicine at UMC and the Tulane Department of Surgery, respectively, Dr. Marrero is testing the effects of hyperbaric oxygen treatment (HBOT) in rescuing musculoskeletal components in a pig model of traumatic limb injury and ischemia. Dr. Marrero assesses delivery, tissue phenotype by histology and protein analyses, and novel approaches to measuring metabolic activity (e.g. ATP biosynthesis in vivo).  Third, in collaboration with the Departments of Pathology and Pulmonary Care at the Medical University of South Carolina, Dr. Marrero studies the effect of a novel cryopreservative of tissues for transplantation. He analyses the integrity of vascular components harvested from donor limbs and their viability for seeding into large allografts used in surgical correction of massive skeletal defects.
Location
Clinical Science Research Bldg, Room 530 & 532
533 Bolivar Street
New Orleans, LA 70112
Research Team
Lab manager: TBD
Research Assistants / Undergraduate Students: 
-Past: Kathryn Jordan, Sarah O'Brien, Nathaniel Beech, Jose Cruz Ayala
-Present: Christina McCarthy, Elena Plakotaris, Maria Tovar
Medical Students: 
-Past: Linus Igbokwe, Jacob Davis, Jonathan Schuon, Lauren Saunee
-Present: Sydney Hodgeson, Mallory Crawford, Jose Cruz Ayala, Lauren Guillot
Resources
Facilities and equipment for histopathology, cell culture, biophotonic imaging in vivo, and xray. Microscopy systems for brightfield, epifluorescence, confocal, multiphoton, and laser scanning microdissection. For more information visit our resources page.
Publications
Click Here to view Publications
Headed by: Dr. Luis Marrero