Remembering Dr. John Roberts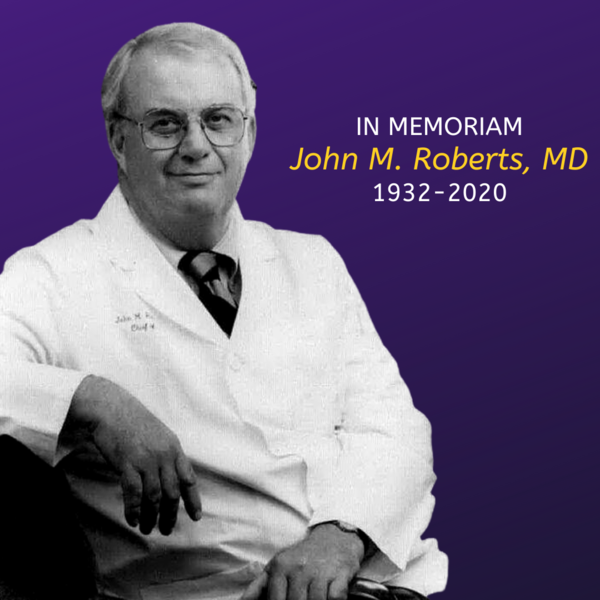 August 18, 2020, New Orleans
Doctor Roberts was the first head of pediatric orthopedics at LSU and Children's Hospital. He came to New Orleans at the time when Children's Hospital was transitioning from a rehabilitation hospital to a full-service Children's Hospital. At the time, orthopedics and pulmonary medicine were the predominant departments, and John was made president of the medical staff. He had already established himself nationally and internationally as a noted pediatric orthopedist. He was a founder and leader of several pediatric orthopedic societies. He had an international vision and would spend approximately 60 days of each year traveling to international meetings and visiting pediatric hospitals. This would translate into many well-known Surgeons coming to visit with him here in New Orleans. I particularly remember his good friend Tony Catterall from the Royal national orthopedic hospital in London being a frequent visitor.

John had a vision That modern pediatric orthopedics should take place in a full-service Children's Hospital He worked hard to steer New Orleans Children's Hospital in that direction. In his honor, the library at Children's Hospital was named after him, and an annual lectureship in his name has taken place each year since his departure in 1989. He also directed a pediatric orthopedic fellowship program, which trained a number of pediatric orthopedists still in practice throughout the country. (Doctor Michel Zembo is one!)

John Roberts grew up in New England. He attended Phillips Exeter Academy, then Yale as an undergraduate and Princeton for medical school. He did his orthopedic residency at Duke. He can be forgiven for his lasting high-minded opinion on the superiority of eastern elite academic institutions! This was tempered when he married Rusty, who was from Lafayette, LA. Surgeons who trained under John Roberts in New Orleans will remember fondly the Journal clubs are meetings held in the front room of his home on Nashville Avenue and catered by Rusty, who was a superb hostess.

John was a full-time professor at LSU and an adjunct professor at Tulane. During his tenure, Children's Hospital trained both Tulane and LSU residents in pediatric orthopedics. Later after he left, Tulane created a separate children's hospital, and their training stopped at Children's Hospital. John would be gratified to see that this has now reversed back to the way it was when he was here.

Those who trained under John will remember him as demanding and detail-oriented. They will also not forget that he gave incredible lectures (his slides made by Rusty!) and his remarkable ability to take complex topics and condense them into a nutshell. For this reason, he was in high demand as a lecturer for courses in preparation for the orthopedic boards. The New Zealand orthopedic Association paid his way to travel to New Zealand each year to give pediatric orthopedic teaching. His leadership skills led to him being president and officeholder in many prestigious societies.

This last Christmas, I received an illustrated autobiography of his medical life. In it, he said how pleased he was to see New Orleans Children's Hospital was actively being renovated to a first-rate medical facility.
-Andrew King, MD
Read Dr. Robert's full obituary
About the Author
Dr. King received his medical degree at the University of Otago in New Zealand. He completed his orthopedic residency in New Zealand and spent a year of orthopaedic training in Exeter, England. Dr. King completed a fellowship in spinal surgery at LSU Medical Center in 1980 before joining the faculty at LSU. His interests and research have centered on scoliosis and spinal deformities. Dr. King has lectured and presented research at numerous national and international forums. His research, in conjunction with the Bioengineering Section of the LSU Department of Orthopedic Surgery, has produced methods of spinal instrumentation that are manufactured commercially and available internationally: he is a member of the Scoliosis Research Society and on the advisory board of the Scoliosis Association. Dr. King is past-president of the medical staff of Children's Hospital and has served on the Board of Directors of both Children's Hospital and Kenner Regional Medical Center. He also served as the 2007 President of the Louisiana Orthopaedic Association.