LSU Orthopedic Surgeon, Dr. Jessica Rivera, Implants First All Internal Bone Transport Intramedularry Nail in the State of Louisiana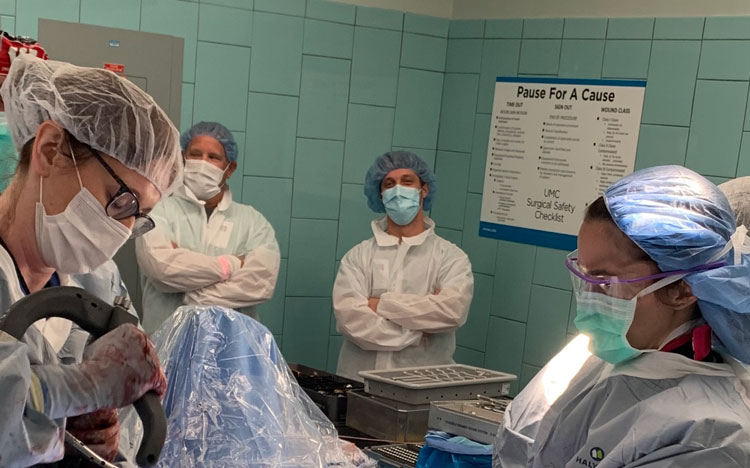 The nail was inserted to treat a tibial nonunion and will lengthen to fill the defect created to treat the nonunion (unhealed bone). The patient had requested an amputation as the patient had given up hope and had run out of options. A honest to goodness limb salvage procedure!

About Dr. Rivera:
Dr. Jessica Rivera joined the LSU Department of Orthopaedics in 2019. She graduated from Emory and Henry College in Emory, Virginia with a B.S. in Biology 2003 and from the University of Tennessee Health Science Center College of Medicine with her medical degree in 2007. She completed orthopaedic surgical residency at San Antonio Military Medical Center in 2013. After residency graduation, Dr. Rivera remained in San Antonio as a general orthopaedic surgeon at San Antonio Military Medical Center assigned to the US Army Institute of Surgical Research Extremity Trauma and Regenerative Medicine task area. Her additional duties in the Department of Orthopaedic Surgery included co-custodian of the Military Orthopaedic Trauma Registry, residency assistant program director for research, and Division Chief of Research and Process Improvement.

In 2014, Dr. Rivera was admitted to the University of Texas Health Science Center at San Antonio joint Translational Science PhD program which she completed in spring of 2018. Dr. Rivera served eleven years of active duty military service, deploying twice in support of Operation Enduring Freedom/Inherent Resolve and Operation Spartan Shield and once to Tegucigalpa Honduras for a pediatric orthopaedic medical training exercise. Following her honorable discharge from the military in 2018, she sought additional training as a pediatric orthopaedic fellow at the Rubin Institute for Advanced Orthopaedics and International Center for Limb Lengthening in Baltimore, Maryland. Her career goals involve specializing in pediatric and post traumatic limb lengthening and deformity correction and participating in translational research to advance the science of limb reconstruction.