Abhishek Kumar, MD
Assistant Professor of Orthopaedic Surgery/Spine
Assistant Program Director
Acting Clerkship Director
---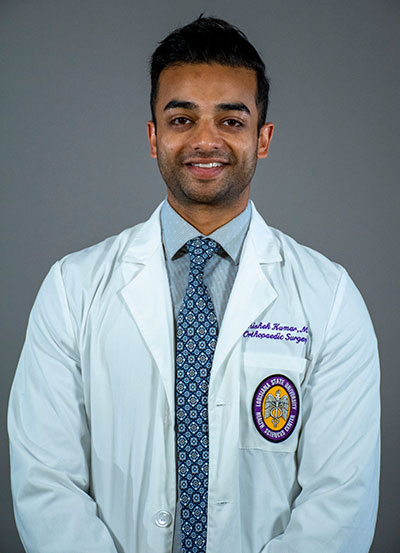 Practice Location:
University Medical Center - New Orleans
2000 Canal Street
New Orleans, LA 70112
(504) 702-5700 for appointments
East Jefferson Hospital/Medical Center
4200 Houma Blvd.
Metairie, LA 70006
(504) 454-4000, for appointments
Academic Office:
1542 Tulane Avenue
1542 Tulane Ave., T6-7
New Orleans, LA 70112
(504) 568-4680, phone
(504) 568-4466, fax
Degrees
Fellowship:
Mount Sinai Hospital
Orthopaedic Spine Surgery
New York, NY
Residency:
McGill University
Orthopaedic Surgery
Montreal, QC
University of Calgary
Clinical Research Fellow
Calgary, AB
University of Calgary
Doctor of Medicine
Calgary, AB
BSc
Biological Sciences
University of Alberta
Edmonton, AB
Bio
Dr. Abhishek Kumar is a fellowship trained specialist in Spine surgery. He is an expert in the diagnosis and management of both routine and complex disorders of the lumbar, thoracic and cervical spine. He has a special interest in spinal deformity and minimally invasive spine surgery. By treating degenerative and traumatic conditions of the spine with smaller incisions he is able to minimize disruption of important muscles and ligaments resulting in less pain, a shorter hospital stay and better outcomes. He uses minimally invasive techniques for disc herniation, decompression of spinal stenosis and spinal fusion.
His research focuses on the development of new techniques as well as evaluating and improving existing methods. His work has been published in major medical journals and has been frequently presented at multiple national meetings as well as and international conferences across Asia, Europe and South America. He has also published multiple chapters in current spinal surgery textbooks on the management of spinal deformity, disorders of the cervical spine and techniques in minimally invasive spine surgery.
Dr. Kumar completed his medical training at the University of Calgary and his Orthopedic Surgery residency at the renowned McGill University in Montreal, Quebec, Canada. Following this, he was accepted for a fellowship in Spine surgery at the prestigious Mount Sinai Medical Center in New York.
Dr Kumar is happy to call New Orleans his new home and is motivated to help improve the health and wellness of this vibrant community. He has been recognized during residency for outstanding patient care and is dedicated to making the patient a part of the decision making process by taking time to explain diagnoses and treatment options in a clear and informative manner.