Roy Rodger Marrero Sr., M.D.
December 14, 1933 – November 07, 2022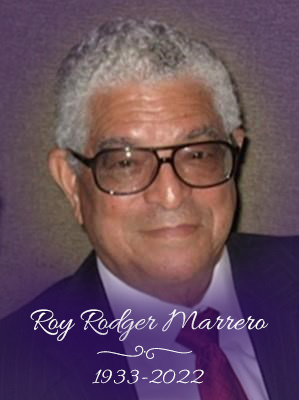 In loving memory of Roy Rodgers Marrero, M.D.
Dr. Marrero was a trailblazer within New Orleans Orthopedic Surgery and an inspiration to us all.
From 1958 to 1965 he worked as a research associate at LSU Medical Center in New Orleans. During this time, he enrolled in the Master's Degree Program at LSU and earned a Masters in Medical Physiology in 1963. He enrolled in Howard University College of Medicine in 1965. He was awarded a scholarship as a freshman. He graduated from medical school in 1969, finishing third in his class and was inducted into Alpha Omega Alpha Medical Honor Society.
He and his family then moved back to New Orleans where he completed his internship at Charity Hospital in 1970. In July of that same year, he began the Orthopaedic Surgery Residency Program at Tulane University School of Medicine.
In 1974, he became the first Black Orthopedic Surgeon in Louisiana.
Over the course of his career, he had many accomplishments, and his legacy will always be remembered and honored by all of us in the orthopedic surgery department.