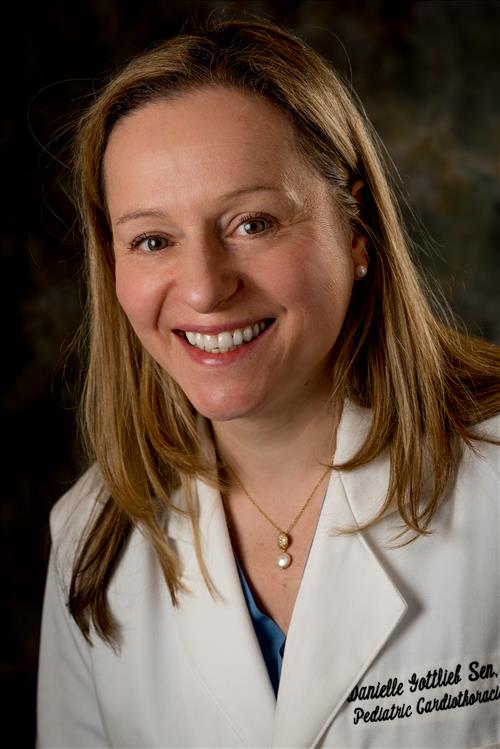 Danielle Gottlieb-Sen, M.D., MPH, M.S.
Assistant Professor of Clinical Surgery

Section of Pediatric Surgery

Children's Hospital New Orleans

Pediatric Cardiovascular Surgery

LSU Health Sciences Center
School of Medicine
Department of Surgery
1542 Tulane Ave. Rm 734
New Orleans, LA 70112
Phone: (504) 568-4750
Fax: (504) 568-4633

200 Henry Clay Ave.
New Orleans, LA 70118
Phone: (504) 896-3928
Fax: (504) 896-9410
Fellowships
Columbia University/New York Presbyterian Hospital
ACGME Fellowship, Cardiothoracic Surgery
Columbia University/Children's Hospital of New York
Fellowship, Pediatric Cardiac Surgery
Harvard University/Boston Children's Hospital
Fellowship, Pediatric Cardiac Surgery
ACGME Fellowship, Pediatric Cardiac Surgery
Residency
Harvard University/Massachusetts General Hospital
ACGME Internship and Residency, General Surgery
Education
State University of New York at Binghamton
BA, English Literature and Creative Writing
University of California, Berkeley and University of California, San Francisco
MS/MD, Joint Medical Program
Harvard University School of Public Health
MPH, Clinical Effectiveness
Genetics of congenital heart disease
Biorepository of samples from patients with congenital heart disease
Prenatal diagnosis of congenital heart disease
Home monitoring for high risk patients with congenital heart disease
Epidemiology of congenital heart disease in Louisiana
Device development
Gottlieb D, Tandon K, Emani S, Aikawa A, Brown DW, Powell AJ, Nedder A, Engelmayr GC, Melero-Martin JM, Sacks MS, Mayer Jr., JE. "In Vivo monitoring of autologous engineered pulmonary valve function." J Thorac Cardiovasc Surg 2010; 139(3):723-31.
Ramaswamy S, Gottlieb D, Engelmayr GC, Aikawa E, Schmidt DE, Gaitan DL, Sales VL, Mayer JE, Sacks MS. "The role of organ level conditioning on the promotion of engineered heart valve tissue development in-vitro using mesenchymal stem cells." Biomaterials. 2010;31(6):1114-25.
Hjortnaes J, Gottlieb D, Figueiredo JL, Melero-Martin J, Kohler RH, Bischoff J, Weissleder R, Mayer J, Aikawa E. "Intravital molecular imaging of small-diameter tissue engineered vascular grafts: a feasibility study." Tissue Eng C. 2010;16(4):597-607.
Eckert CE, Mikulis BT, Gottlieb D, Gerneke D, LeGrice I, Padera RF, Mayer JE, Schoen FJ, Sacks MS. "Three-dimensional quantitative micromorphology of pre- and post- implanted engineered heart valve tissues." Ann Biomed Eng 2011;39(1):205-22.
Fata B, Gottlieb D, Mayer JE, Sacks MS. "Estimated In Vivo Postnatal Surface Growth Patterns of the Ovine Main Pulmonary Artery and Ascending Aorta." J Biomech Eng 2013; 135(7):71010-12.
Fata B, Carruthers CA, Gibson G, Watkins SC, Gottlieb D, Mayer JE, Sacks MS. "Regional structural and biomechanical alterations of the ovine main pulmonary artery during postnatal growth." J Biomech Eng 2013; 135(2):021022.
Gottlieb D, Fata B, Powell AJ, Cois CA, Annese D, Tandon K, Stetten G, Mayer JE, Sacks MS. "Pulmonary Artery Conduit In Vivo Dimensional Requirements in a Growing Ovine Model: Comparisons with the Ascending Aorta." J Heart Valve Dis 2013; 22:195-203.
Bernier PL, Gottlieb D, Bacha E. "Successful treatment of mediastinitis in a young child by omental translocation following extracardiac Fontan graft placement." World J Pediatr Congenit Heart Surg 2014;5(4):608-10.