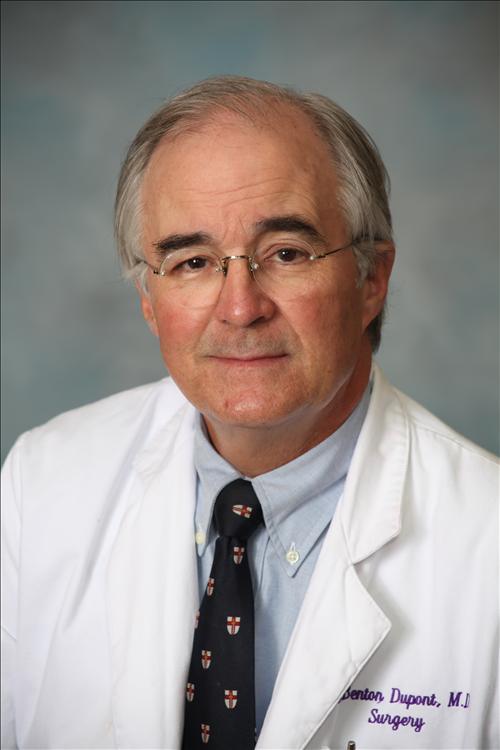 Joseph Benton Dupont, Jr., MD, FACS
Clinical Associate Professor of Surgery
Baton Rouge General Surgical Associates
8595 Picardy Avenue
Suite 235
Baton Rouge, LA 70809
Phone: (225) 763-4820


jdupo@lsuhsc.edu
Undergraduate:
June 1966 - June 1969
Tulane University
New Orleans, LA


Graduate/Medical:

September 1969 - June 1973
Louisiana State University, School of Medicine, MD
New Orleans, LA


Internship:

July 1973 - June 1974
Surgical Rotating Internship
Emory University School of Medicine
Grady Memorial Hospital, Atlanta, GA
Residency:                             
July 1974 – June 1977
Resident in General Surgery LSU Affiliated Hospitals, New Orleans,

LA Post-Doctoral Fellowships:                        
July 1977 – June 1978 Surgical Oncology
M.D. Anderson Hospital, Houston, TX
 

Dr. Dupont is a full time faculty member of the Dept. of Surgery at LSUHSC in New Orleans. His base of practice is the E.K. Long Memorial Hospital in Baton Rouge, LA. where he is a Clinical Professor of Surgery and since 1981, also has maintained  a full time General Surgical/Surgical Oncology practice. He currently also serves as the Medical Director of the Pennington Cancer Center of the Baton Rouge General Regional Medical Center.