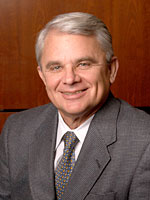 Larry H. Hollier, MD, FACS
Professor of Surgery
Chancellor, LSUHSC at New Orleans
433 Bolivar Street
8th Floor
New Orleans, LA 70112
Phone: (504) 568-4800
Fax: (504) 568-4008

lhholl@lsuhsc.edu
BS - 1965
Louisiana State University, Baton Rouge, LA
MD - 1968
Louisiana State University School of Medicine, New Orleans, LA
Appointed Chancellor on February 3, 2006
Appointed Acting Chancellor November 14, 2005
Appointed Dean of the School of Medicine on January 1, 2004

Dr. Larry H. Hollier serves dual roles as Chancellor of LSU Health Sciences Center at New Orleans and Dean of its School of Medicine. Comprising six health professions schools, LSU Health Sciences Center at New Orleans educates Louisiana's health workforce, research scientists, and public health policymakers. He is a practicing vascular surgeon as well.

A native of Crowley, LA, Dr. Hollier was President of Mount Sinai Hospital in New York before being recruited to lead his alma mater-the School of Medicine at LSU Health Sciences Center in New Orleans, where he earned his medical degree in 1968, was named Chief Resident in Surgery in 1974, and entered academic medicine with an appointment to the LSUHSC faculty in 1975.

Following a brief stint in the U.S. Air Force, in 1980 Dr. Hollier joined the faculty and staff at the Mayo Clinic in Rochester, Minnesota where he helped develop the hospital's vascular surgery service and training program. In 1987, he was named Chairman of the Department of Surgery at Ochsner Clinic Foundation and served as a member of the Board of Management for Ochsner's 750-member, multi-specialty group practice. Dr. Hollier was also active in expanding surgical activities in oncology, vascular surgery, cosmetic surgery, and transplantation.

In the mid-1990s, Dr. Hollier served as the Chair of Surgery and Executive Director of Clinical Affairs at the former Health Care International Medical Centre near Glasgow, Scotland, a tertiary care hospital specializing in cardiac surgery, cardiology, bone marrow transplantation, orthopedics and ophthalmic surgery, an operation he was recruited by Harvard to build.

Despite the conventional wisdom that physicians make poor businessmen, Dr. Hollier took on the challenge of dealing with a $100 million deficit at The Mount Sinai Hospital in New York and remaking it as more of a "physician-led institution." Becoming one of the first of a new breed of physician-CEOs among hospitals nationally, Dr. Hollier was named President of the 1000+ bed hospital in August 2002. Rising from Chairman of Surgery to the center's chief medical officer (Senior VP and Dean of Clinical Affairs), and then to the #1 position, he set out to prove that a physician can successfully run a large teaching hospital.

Dr. Hollier is certified by the American Board of Surgery and is certified in General Vascular Surgery. He is a Fellow of the American College of Surgeons, the American College of Cardiology, the Royal College of Surgeons of England, and the Royal College of Physicians and Surgeons of Glasgow, Scotland.

In addition to being a lecturer on vascular and endovascular surgery, Dr. Hollier is the author of more than 300 journal articles and serves on the editorial boards of 13 surgical journals.

Aortic disease
Thoracoabdominal aneurysm
Aortic aneurysm
Thoracic aneurysm
Aortic dissection
Occlusive disease
Cerebrovascular insufficiency
Carotid stenosis
Arch vessel occlusive disease
Endovascular treatment of vascular disease
Takayasu's arteritis